Origin
Miss Fury is one of the earliest female heroes in the pulp era, featured prominently from 1941 to 1952, created, written, and drawn by June Tarpe Mills, one of the few women in the business at the time.
Powers and Abilities
Miss Fury was a skilled athlete, acrobat, climber, and fighter. She was also a smart amateur detective and very wealthy. Her panther suit was supposedly enchanted by a witch doctor and also had claws. She sometimes used the spiked heels on her costume as weapons in addition to using a whip.
Of special note regarding Miss Fury's powers is how seldom she used them. In the collection's nearly 200 strips, Marla donned the costume only a handful of times, heeding the warning of her friend — the Brazilian albino Indian and world traveler called Albino Jo — that "with every favor gained through black magic, got two misfortunes."
Public Domain Appearances
Black Fury/Miss Fury Comic Strip
The Saint #6
Miss Fury #1-8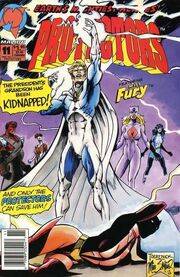 Malibu Comics Appearances
The Protectors #10-12, 19-20
Notes
See Also